We have been working with our flight operations and cabin safety specialist expertise  to initiate conceptual design, preliminary design and construction of cabin training and safety devices.

From Partial cabin safety training mock up for safety training from door opening, door jam, slides evacuation, smoke simulation training and cockpit incapacity training.
The following are images of our cabin training devices which is divided in to Airbus A320 door and Boeing B737 door to suit combined common fleet requirements. All the windows are LCD enable, the door is also equipped with pneumatic motorized to simulate door jam.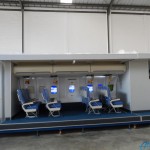 To build this training devices averagely takes 3- 4 months excluding shipping and actualdoor purchase.